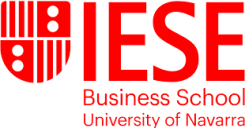 Barcelona Spain
11 months Duration
€ 44,550 Tuition
Full time Format
About the Program:
For recent graduates and young professionals in the early stages of their working lives, IESE Business School offers the Master in Management (MiM). The 11-month program delivered in Madrid focuses on developing the essential analytical skills and knowledge for a thriving career. With 63% of international participants, the MiM students get prepared to launch their career and make a positive impact on the world, using the Case Method to discuss real business situations with a global perspective.
Not sure if this master's degree suits your profile, needs and ambitions? You can meet the MiM Admissions team that guides candidates during this next professional step or attend the upcoming events.
Scholarships are offered to prospective students.
Frequency (attendance):

Full time

Size of the class:

100

Start date:

28.08.2023
Admission requirements:
Language Test:

TOEFL 100 (minimum), IELTS 7 (minimum)

Age
(Avg):

23

Experience
(Max):

2

Other:

* Application form * Application fee * Official transcripts * GMAT I GRE I IESE Test: If for any reason the applicant is unable to take the GMAT I GRE, we offer an internal IESE Test with content similar to that of the GMAT. Please contact your associate director to book the IESE Test. * CV * English test: TOEFL 100 I PTE>68 I IELTS 7 I Cambridge Certificate of Proficiency in English A or B * 1 letter of recommendation * Mandatory essays (online form) * Passport-size digital photograph
Diversity:
Male/Female students:

70% / 30%

Number of nationalities represented:

30
Career progress:
Selected recruiters:

Amazon, Citi, Microsoft, Nike, PwC, BCG, Bain & Company, ABInBev, American Express, PEpsico, Credit Suisse, McKinsey&Company

Type of aid available:

Scholarships, loans

Criteria on which aid is granted:

Loans are granted depending on the student's risk profile and future repayment capacity, scholarships are granted through merit.
How do you fit the school
Access information to make a complex decision with confidence with matched Master's programs that offer you the best fit. The map on the right shows results on the six dimensions of our Cultural Fit Map.
In the Cultural Fit Map, each dimension is anchored by two diametrical poles. Neither end is good or bad. Relying on our unique scientific research, we can offer insight beyond metrics and facts — into the full Master's experience itself. Take our short survey and explore what life in a particular university is like.
Location
Campus
Address: Cam. Cerro del Águila, 3, 28023
Madrid, Spain