How we find your perfect
MASTER'S
Cultural Fit Map is the third step in our unique process of finding your perfect Master's program. See how it works or browse through other steps:
How connect works
Get a closer look at your potential program and school of choice. Attend our webinars and take the opportunity to meet inspiring Master's alumni.
Here you can also discover new opportunities with a Master's program you hadn't considered before. The live Q&A session in each webinar is the perfect opportunity to hear personal stories, learn important school details, and show your interest in graduate studies.
GET A PERSONALIZED LIST OF YOUR TOP 10 MASTER'S PROGRAM MATCHES
If you are ready to see your matching schools, help us learn more about you. Create your account - it's quick and free.
Your unique results include the 10 Master's programs where you are most likely to apply.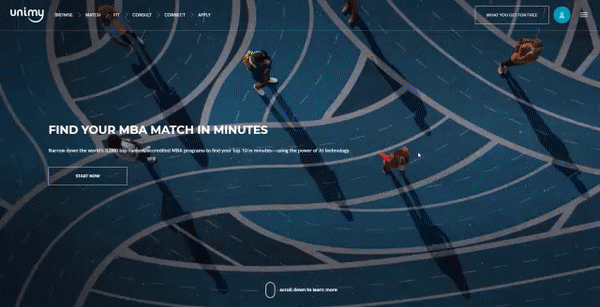 Match registration form
✕
To get your top 10 Master's matches, create your personal profile. Your results will be more accurate if you provide detailed information. Registration is free and your data is used by our artificial intelligence tool to generate your top matching Master's programs.
Already have an account?
Login
If I register for an event or webinar, do I have to continue with the application process for that school?
No. You can attend as many webinars and other online events as you wish. Imagine you are considering several schools for your Master's, but you can't decide which one is the right choice. It could be helpful to take a look inside schools and their programs by hearing real alumni stories and opinions.
What if I'm not able to join an event or a webinar I'm interested in?
If you would like to take part in an event, but you aren't able to join live, you can watch the recording later on. You just need to register as a participant and you will receive a link to the video recording via email.
Can I talk to alumni during the webinars and ask questions?
Absolutely. Master's alumni who take part in our webinars are there to help as many applicants as possible by describing their study experience and answering specific questions that come from the webinar audience.
Can schools contact me personally if I register for their events or webinars?
Yes, that's a possibility. Schools might be interested in seeing your profile on Unimy Masters to determine if you are a good fit for their program. This is what makes our webinars even more valuable—you have the opportunity to find the right school for you and stand out from other applicants.